Client/Project: Market Cap Tracking App
Role: Researcher, UX/UI Designer
Goal(s): Develop new features in the app and a user dashboard that prioritizes displaying specific pieces of data according to user preference
Result: Designed and tested new features for the app indicated by user surveys and interviews.
---
Tools/Techniques Used:
Paper & pencil
Lots of Post-its
Competition Research
Stakeholder Interviews
Whiteboarding
User Interviews
User Surveys
Sketch
Wireframing
Prototyping
Usability Testing
Adobe XD
Adobe Illustrator
Visual Design
Material & iOS Design Libraries
Discovery
I interviewed client stakeholders to understand their goals for the new features of the app and understand ultimate end-goals and desires, i.e. increase user engagement through market waxing and waning, support future membership plans, and create a dashboard to allow for a more personalized experience within the app.
Research
I surveyed the market to see what other, similar apps are offering and what sort of comments and ratings they have
I examined the current related website and app analytics to understand what pages and features users were using. With the client's project manager, we surveyed current users of the app to help inform the team about which data points in market exchange tables are a priority for users, making 2 hypotheses: 1) As a user, I find the ability to view and compare exchange market data points to be valuable and 2) As a user, I find some pieces of data more valuable than others when viewing a table of information for multiple exchanges.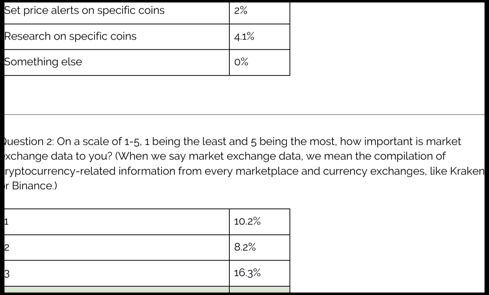 Results showed that our hypothesis were confirmed via the data. There was also strong evidence in the responses that gave way to additional features that could be developed for a future version of the app.
Information Architecture
I mapped out the architecture structure as it existed in the current app.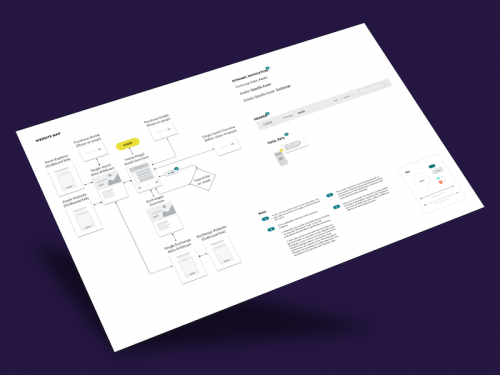 With the results of the research, I sorted out a new high level menu structure, planned for where new features would live in the app and how it would connect to existing features in a way that would be clear to new and current users.
User Journeys & Flows
Based on analytics and an expert review on the app, I mapped out the current journeys users took through different features and identified possible pain points that needed to be addressed.
I created user flows integrating the new features into the current app. I focused on making sure that all possible paths would be covered when integrating new and old features together in a way that would be clear to the users using the app, and the developers creating the new features.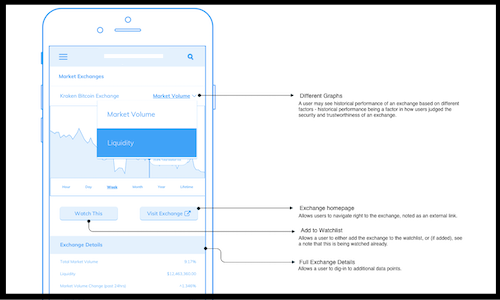 Wireframes
I designed lo-fi wireframes and used a clickable, lo-fi prototype for user testing on the navigation and IA. I focused on making the new features match seamlessly to the rest of the app. Additionally, I tried to ensure that the new features fit in with the other sections, and accounted for new interactions and screens that would result from a merging of new and old features.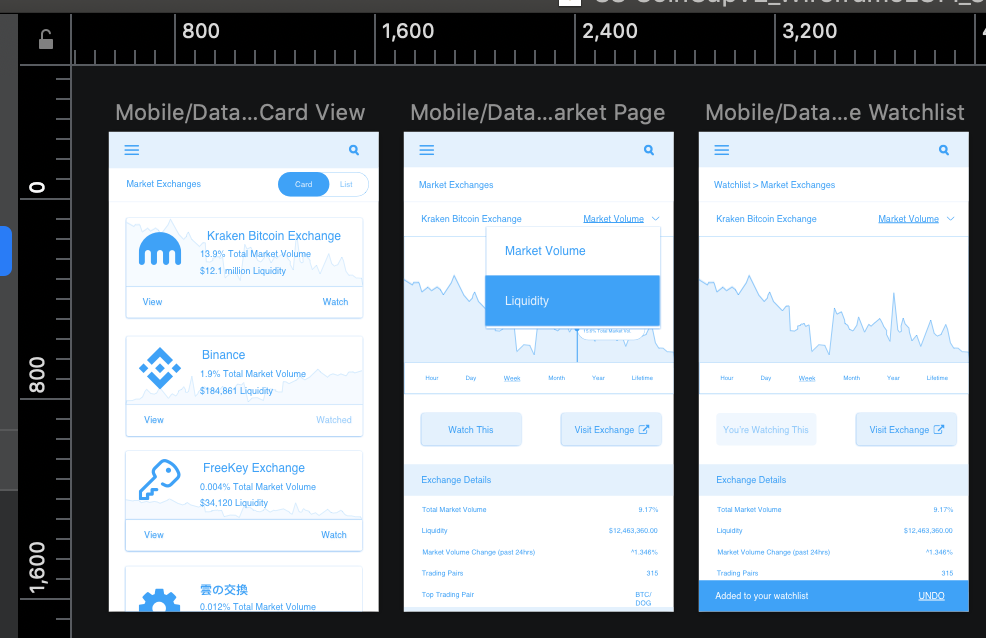 I designed pixel perfect, high fidelity wireframes for Android and iOS based on testing and the lo-fi wireframes to pass off to developers. I ensured that each screen or system status would be accounted for, from happy to unhappy paths, alerts, edge cases, and every day cases. I also developed different 'themes' – a light or dark theme that a user could pick from.
Testing
For our usability test, I asked current users and non-users (but likely users based on demographic data) of the app to fulfill certain tasks to help inform us about the efficacy of our navigation and iconography. The hypothesis was that icons can help promote learnability and usability of the product with a lower cognitive load than just text on the page.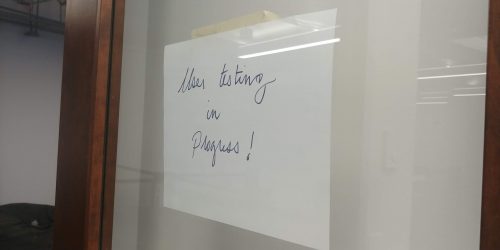 The goal of this study was to understand if the icons we've chosen are 1) Readily understandable with minimal training, and 2) Suggest the functionality that the icon is associated with. Results were mixed – users found a combination of icons + text to be readily understandable as icons that lead to a page/feature/action, but due to overall confusion/uncertainty about the features of the app themselves, we could not completely confirm that the icons properly suggested the functionality of the icon. With these results, we worked on making sure that new and current features of the app came with clear and concise explanations and tool tips to promote user understanding.
Prototypes
I created a lo-fi, clickable prototype with Sketch and Adobe XD to use on Android and iOS phones during usability testing. I connected the live prototypes via Sketch/XD functionality and tried to make sure they worked seamlessly when interacting with them on the phone screens.
Development
I passed along the pixel perfect wireframes to developers, along with the user flows and lo-fi wireframes as well. I made sure I was available to answer any questions or make any changes or edits to screens that may be needed.
Final Results
The launch of the app was delayed for a number of reasons – eventually, many features were cut out and the app overall was simplified. Our work with finding the VIP data points users look for, and the resulting tables and graphs to display those data points remained in the final launch. Additionally, the introduction of a bottom menu remained as well.