Client/Project: Little Learners App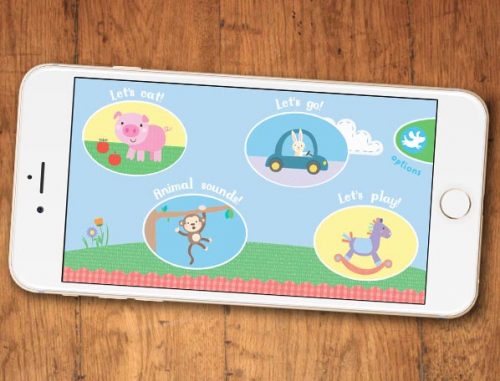 Role: Researcher, UX Designer, Visual Designer, Developer
Goal(s): Design and develop the Little Learners app with a focus on child-friendly interactions
Result: An app that met the unique considerations of very young children while meeting the expectations of their parents, which saw a 500% increase in sales over the lifetime of the app from its prior incarnation.
---
Tools/Techniques Used
Sketch
Paper and pencil
Adobe Illustrator
Adobe Photoshop
Market Research
PubCoder
Audacity
Xcode
JavaScript/HTML/CSS
User Surveys
Usability testing
Heuristic Review
Prototyping
Wireframing
Visual Design
Discovery
We had an old version of the app that existed. The app aimed to teach pre-literate children under the age of 4 simple words, shapes, and colors. We had no access to any part of the files or artwork, but rights to the app. The app needed to be redesigned with updated branding and with an improved user experience.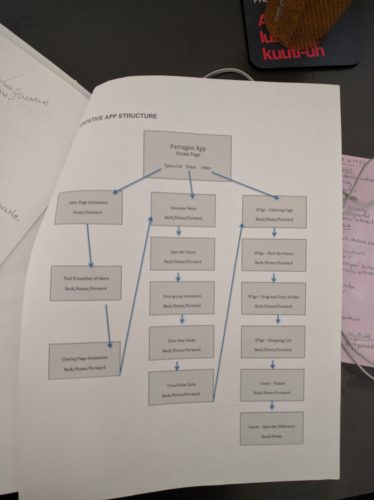 I examined the user comments from the app, the current user journey to identify pain points and good points, and the flow of the current app. One issue stood out – interactions with the old app too easily let children exit the app or screen and also raised the ire of parents that had to fix it.
Research
I researched how children interacted with touch-screen technology, focusing on how those interactions differed from adults: children tend to have less success with interactions that involve swipe gestures and pinch to zoom gestures. Finding the answer to this question was two-fold. I researched how children interacted with touch-screen technology, focusing on how those interactions differed from adults. I read a number of studies that examined both the predilection of children to tap around on a screen, and the levels of hand-eye coordination up to adulthood.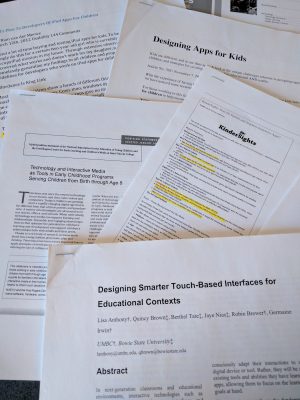 I found that while most adults assume children have a near-inherent fluency with mobile devices, young children struggle with many gestures that are built in a number of "kid-friendly" apps: swiping, pinching, and hyper-accurate touching are all skills we tend to learn at an older age. I decided to focus on forgiving, tap-interactions only and, in a very rough first draft, outlined how that app I thought it would be structured.
User Flows
I created flows based on the prior structure of the app, making tweaks to allow easier access back into certain areas and menu screens.
Wireframes
I made low fidelity wireframes to brainstorm various ways to solve the "menu button" placement problem – adults would slow double tap the menu to access settings and the "parent-only" section, but a child tapping around wouldn't easily exit themselves from the screen.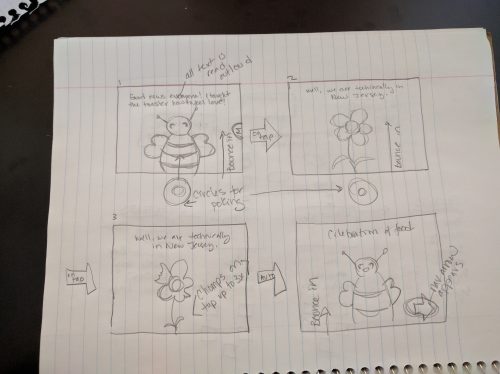 I also created different ways to increase engagement through each section by encouraging children to either play the section again or an easy way to go back to the main menu to pick a different section.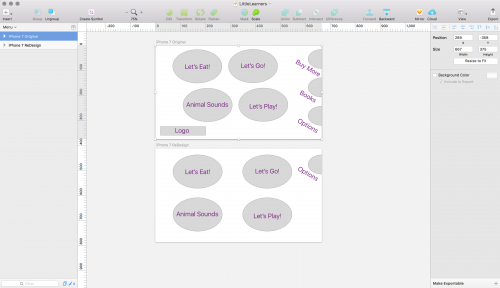 Testing
I ran a lean usability test with a small group of toddlers and their parents. Given that the toddlers were too young to speak fluently or read, we watched how the toddlers interacted and how interested they appeared to be in the screen or if there were any points of frustration. Toddlers could tap to their heart's content, and parents found it easy as well to navigate the app.
Prototypes
I utilized an industry specific tool (PubCoder) to create prototypes to use for testing before we launched in the app store. The prototype was pixel-perfect and tappable, with sound as well.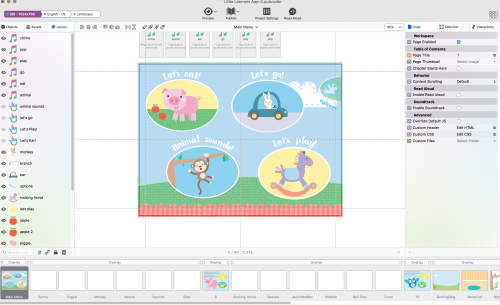 Development
In addition to using PubCoder, I developed specific interactions with JavaScript and CSS to complement the basic interactions allowed for with the tool. I developed versions for Android and iOS, accounting for the differences in requirements for both operating systems.

I submitted the apps to the Apple and Google Play stores, with proper metadata tagging, descriptions, and icons.

I worked with a music studio to create sound effects and music for the app.
Final Results
After we successfully launched the app in the Apple and Google Play store, I tracked the sales analytics and customer comments.